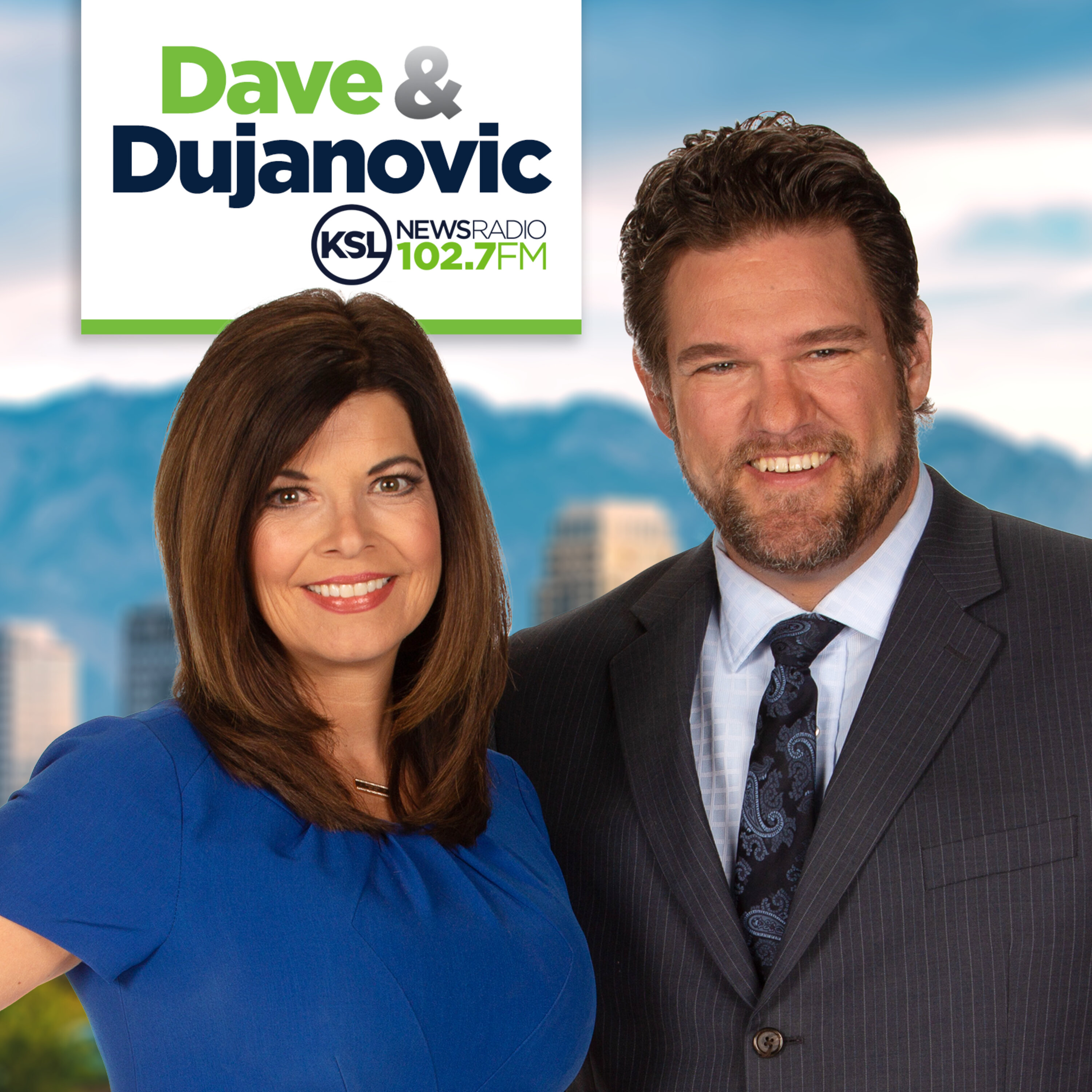 Dave and Dujanovic
What happens when a seasoned, award-winning investigative journalist and a well-known and very funny sports reporter get together to talk about news and politics? Dave Noriega and Debbie Dujanovic, also known as D2, join forces, mornings on KSL Newsradio.
Jewish Community reaction to synagogue attacks (08:15)
1-27-2022
Police officers in England arrested two more men on Wednesday in connection with a hostage situation at a Texas synagogue earlier this month. Utah Rabbi Avremi Zippel joins Dave and Debbie.
Future of the Supreme Court (10:28)
1-27-2022
Boyd Matheson, Inside Sources brings reaction to what the future of the supreme court and certain cases such as Roe vs Wade looks like.
Nancy Pelosi Reelection (10:03)
1-27-2022
Nancy Pelosi has announced she is running for re-election. She has been serving California since 1987, is this an example of how we should reconsider term limits? Boyd Matheson from Inside Sources reflects on what her re-elections means.
SCOTUS Justice Stephen Breyer is retiring (27:45)
1-27-2022
Breaking News: Justice Stephen Breyer is retiring and Dave and Debbie go in depth and talk to Boyd Matheson on what this means for President Biden. Boyd Matheson and Amanda Dickson share reaction.
Teacher Burnout (40:10)
1-27-2022
9:05 Utah teachers are burning out! Alpine, the state's largest school district, made a bold move to deal with it, sending students home an hour early a day for the month of February. 9:35 CALLS - does this burden you on the Homefront? 9:50 David Stephenson, Alpine School Distr...
How long will schools have to wait for approval on remote learning ? (08:17)
1-26-2022
A new bill from the Utah legislature aims to take power away from local boards on when they can shut down schools to protect students, but how long will the process take to get approval through state leaders? Senator Todd Weiler joins the show to answer the question on everyone'...
Are we too quick to judge others? (09:37)
1-26-2022
A cancer patient was berated by a judge after not maintaining his lawn due to his illness. At a recent Michigan state court appearance over Zoom… the 72-year-old man explained to the judge his situation while the judge reacted with little to no sympathy -- Dave and Debbie dis...
No Snow in Bejing? No Problem (09:25)
1-26-2022
With virtually no snow to be found in Beijing, how will artificial snow be put into place for the winter games? Olympian and Sports Commentator Trace Worthington calls in with his insight. See omnystudio.com/listener for privacy information.
Ukraine/Russia Conflict (10:03)
1-26-2022
NATO has a 'deterrence' plan against Russia's threat to invade Ukraine, Boyd Matheson from Inside Sources gives us the details on the possibility for Russia to go into Ukraine and how NATO would respond.
Why are more men dying from Covid than Women? (09:02)
1-26-2022
A new Harvard study shows the effects in infections and deaths from Covid between men and women. According to the study, there has been more deaths in men, Dave and Debbie go over the study,
Expanding Rank Choice Voting across Utah (29:44)
1-26-2022
A new bill in Utah's legislature wants to expand Ranked Choice Voting across Utah, Representative Mike Winder talks to Dave and Debbie if this is the right decision for Utah.  Do Utahns support the change?
Market projections in 2022 (09:24)
1-25-2022
What is the prediction for the stock market in 2022? ABC's Caleb Silver comes on the show on what we can expect this year, and how the markets may react if Russia decides to invade Ukraine.
Russia/Ukraine Conflict (09:43)
1-25-2022
Tensions at the Ukraine/Russia borders continue to increase, Utah Congressman Chris Stewart joins the show to talk about the possibility of the US sending troops to Ukraine.
Bill for State Leaders to approve in person Learning decisions (19:30)
1-25-2022
Another dig at local control, a bill sailed through both houses of the Utah legislature. Boards no longer be the decider if they shutdown to protect students. Is this the right move?
Adele Postpones Las Vegas Shows (09:42)
1-25-2022
Adele, through tears, announced through her social media that her Las Vegas residency is officially "Postponed" only 24 hours before she was scheduled to begin. Fans were understandably upset with such late notice.
No More Masks In School? (08:09)
1-25-2022
Dave and Debbie go back to the earlier discussion on doing away with masks in schools.
How Do Teachers Feel About Coming Back to School? (10:30)
1-25-2022
Covid case counts in dozens of schools reset to ZERO today bc students have been out of classrooms for 10 days straight. Mask Mandate Overturned in SLCO.. We are talking alot about the students going back but what are the teachers feeling?
Update on Ukraine and Russia (08:18)
1-25-2022
With Russian troops at the Ukraine border sitting in their tanks waiting to invade, President Biden is considering sending troops over.
Taboo Discussing Salaries? (08:53)
1-24-2022
Should parents disclose their salaries to their kids? A professor at The Wharton School of the University of Pennsylvania went viral on Twitter after she shared a question she asked her students. What do you think the average American worker makes per year? 25% of the students --...
Perception of Income (09:30)
1-24-2022
A professor at The Wharton School of the University of Pennsylvania went viral on Twitter after she shared a question she asked her students. What do you think the average American worker makes per year?
Hunter High School Shooting Update (10:03)
1-24-2022
It's been 11 days since the tragic shooting near Hunter High School… two students died, Paul Tahi (15) and Tivani Lopati (14)... 15-year-old Ephraim Asiata was injured, the teens were all in the football team.
Mask Vote Update (10:01)
1-24-2022
Weeks ago, two conservative council members SLCO voted in favor of a county wide mask mandate -- vote was close so if lawmakers could strong arm them into swapping sides they wouldn't need to vote from Capitol Hill to quash the health order.
John Stockton Tickets Suspended (19:47)
1-24-2022
He's one of the greatest players in NBA History. An NBA Hall of Famer. Owns two records that will never be broken… All-time Assists and All-Time Steals. But he's making news today for other reasons… he's an anti-vaxxer and his alma mater, Gonzaga just revoked his season...
Back to School After 2 Weeks of Remote Learning (18:32)
1-24-2022
Covid case counts in dozens of schools reset to ZERO today because students have been out of classrooms for 10 days straight. Omicron imploded Utah lawmakers' "Permission Slip Plan" schools weren't allowed under law to pivot to online learning without permission from capitol hill...
A look back at the interview with Dr. Dunn (05:21)
1-21-2022
Dave and Debbie took a look back at the interview they had with Dr. Dunn about the mask mandate in SLCO and what lawmakers are looking to do.
Redistricting Emails (10:22)
1-21-2022
mail is a handy tool for communication -- it's also a tool for reporters conducting news investigations. In this case KSL 5 TV & Dnews obtained 3700 government emails to see if lawmakers flat out ignored the will of the people when they drew their own congressional redistricting ...
Tax Cuts for Utah (10:21)
1-21-2022
There are several proposals to cut income tax on Utah's Capitol Hill...and senate leadership have set aside 160 million for tax cuts meaning they have enough for our current rate of 4.95% to drop. Lindsay Aerts, KSL Newsradio Reporter
Romney Voting Rights (08:22)
1-21-2022
Yesterday's votes in the Senate dealt Democrats big blows as they first lost the vote to change the filibuster rule in the Senate 52-48. As all Republicans and two Democrats--Manchin and Sinema-- voted against changing the filibuster rules. Boyd Matheson, Inside Sources
The Clarity of President Biden (09:43)
1-21-2022
Yesterday President Biden held a long press conference one of the things that stood out to Dave and Debbie was his belief that Russia will most likely enter Ukraine. Boyd Matheson, Inside Sources
Is now the time to send kids back to schoo (07:56)
1-21-2022
Thousands of school children are online learning this week. Omicron shut down schools, boards pivoted to remote learning. Dr. Andrew Pavia joins Dave and Debbie and talks about health risks of sending kids back into the classroom when Omicron is rampant. Dr. Andrew Pavia, U of...
User Mileage Fees (15:59)
1-21-2022
There's a lot of numbers in this bill, $46 fee if you drive a motorcycle. $44 if you drive a vehicle under 12K pounds $53 for each farm truck over 12,000 lbs Plus $9 for each 2,000 pounds over 14,000 pounds.
Senator Dan McCay Responds to Dr. Angela Dunn (08:32)
1-21-2022
Dave and Debbie took a look back at the interview they had with Dr. Dunn, Senator Dan McCay discusses the latest on the resolution to overturn the mask mandate.
Free Transit Fare (09:34)
1-21-2022
If you can see the mountains out your window, you're in luck...The inversion is here again and the air is terrible...In an effort to reduce the overal pollution, Representative Joel Briscoe has presented a bill in the state legislature to allow for free fare on public transit thr...
Utah's Bad Air Quality (06:14)
1-21-2022
IQ Air: we were 23 in the world for worst air two days ago. 17 yesterday afternoons .. this morning is the 37th today. We have been in the company of China, India, Iran this week. Bryce Bird/Director of Utah's Division of Air Quality
Dr. Angela Dunn on the mask mandate vs. the Legislature (14:21)
1-20-2022
The Utah Legislature took its initial steps toward overturning a public health order requiring Salt Lake County residents to mask up, a mandate ordered by the head of the health department, Dr. Angela Dunn. The House would still need to vote to overturn the mask mandate, but its ...
Free Home Test Kits Available now (09:57)
1-19-2022
COVIDTests.gov launched yesterday a day early … surprised us. We jumped on it. Took less than a minute. Good news, 4 free tests. Bad news: ships end of Jan. Bad news -- 4 free tests isn't enough. See omnystudio.com/listener for privacy information.
Eye on the Hill: Proposal to add Miscarriage and Stillbirths to Bereavement Time (10:27)
1-19-2022
Sen. Wayne Harper's bill would expand the state's three days of bereavement definition to add mothers and their partners who are grieving after a miscarriage or stillbirth.  Senator Wayne Harper calls in to tell us more.   See omnystudio.com/listener for privacy information.
Effectiveness of Sexual Assault Kits in Capturing Suspects (08:51)
1-19-2022
A man wanted for crimes in Utah -- fakes his own death in Rhode Island -- but flees the country The law couldn't catch him, but COVID did. Busted in his hospital bed -- in Scotland. Nicholas Rossi. Wanted for sexual Assault. But Rossi went to Rhode Island where he took up the nam...
5G Panic and Aircraft (08:37)
1-19-2022
It launched in 2019. There are more than 40 million people in the US that have 5G. But Verizon and AT&T were about to launch a huge expansion of their 5G network. Some airlines are panicking and shutting down operations to the United States saying that 5G is going to interfere wi...
Stuart Adams and Covid Confusion (08:20)
1-19-2022
Stuart Adams confusion -- Yesterday on the show he told Dave & Debbie he had tested negative twice after isolating for 5 days. And he did go to work. He gave a speech without a mask. But then we got some other reports saying he actually had tested positive twice yesterday morning...
Should Lawmakers Leave Local Governments? (29:37)
1-19-2022
The headline in the Deseret News Opinion article: Lawmakers are wrong to remove local authority over mask mandates. But Utah lawmakers spent day 1 of the new session disregarding health officials and usurping local control from Salt Lake County and Summit County. KSL NewsRadio...
Train looting in Los Angeles (08:05)
1-18-2022
Littered boxes and packaged goods were left behind as thieves have been raiding cargo containers. The derailment caused 17 train cars to go off the tracks, Union Pacific said in a statement. No injuries were reported. Is this what has your amazon package on hold?  Dave and Debbi...
Free Feminine Products in Schools (19:13)
1-18-2022
New pitch to make feminine hygiene products available and free in Utah schools... I'll call it stop the Walk of Shame'' for young women. Emily Bell McCormick with Utah's Period Project joins the show  See omnystudio.com/listener for privacy information.
An Update on Tonga (10:43)
1-18-2022
On Saturday an underwater volcano erupted in Tonga… followed up by a Tsunami that has left 3 people dead and hundreds of homes destroyed… The threat still continues as ashes on the islands can cause health problems for the residents, and there is a lack of access to clean wat...
A breakdown of session speeches (08:30)
1-18-2022
Dave and Debbie break down key moments from the speeches of House Speaker Wilson and Senate President Stuart Adams  See omnystudio.com/listener for privacy information.
3 Bills that have our attention (08:43)
1-18-2022
Here are the 3 bills that caught Dave and Debbie's eye…Rep. Joel Briscoe, D-Salt Lake City, filed House Bill 164, which would block public transit districts in the state from charging a fare to passengers. Sen. Wayne Harper's bill would expand the state's three days of bereavem...
Muzzle Mayors Emergency Powers (08:02)
1-18-2022
Pitch on the Hill to muzzle Utah mayors from making decisions to protect public health in a pandemic, epidemic -- or any public health emergency. Here's what HB 182: "prohibits a chief executive officer of a city from exercising powers in response to a pandemic, an epidemic, or a...
Utah and the Death Pena (21:45)
1-18-2022
Another year and another move by Utah Legislators to get rid of the Death Penalty. It's House Bill 0147. It sounds like just another number. One of thousands of bills out there but what this means to Dave, is another legislator ripping open a wound that his family has been tryi...
General Session (09:22)
1-18-2022
Late last week lawmakers allowed school boards to decide if they need to flip to online learning for a chunk of days -- immediately Granite and SLCSD voted to go online until next Monday. Will lawmakers continue to give school districts flexibility to decide?  Senate President ...
Clarifying Quarantine Confusion with The Utah State Epidemiologist (17:10)
1-14-2022
Confusion over quarantine - Dave tested positive for COVID and since the CDC adjusted their guidelines it wasn't entirely clear what to do.  UT State Epidemiologist, Dr. Leisha Nolen joins the show to explain what the state guidelines are. See omnystudio.com/listener for priv...
A pause on Test to Stay (35:38)
1-13-2022
Skyrocketing cases causing many challenges with Test to Stay Protocols, questioning its effectiveness among the Omicron Variant. Speaker Brad Wilson is calling for a pause on Test to Stay in schools and explains more of his thoughts on that.  See omnystudio.com/listener for p...
Does raising rent with the market make you a bad person (19:40)
1-13-2022
Rent is bad right now. Over the summer the Deseret News found that Rent was up 12%. Radio Host Dave Ramsey, who is a landlord, said don't blame him. Jennifer Graham with the Deseret News shares her input on Dave Ramsey's comments. D2 asks listeners if they agree or disagree...
Shooting on Mountain View Corridor Developments (12:14)
1-13-2022
SHOOTING: officers are on scene at a shooting with multiple victims. Occurred on sidewalk along 4100 S in area between NB and SB lanes of Mountain View Corridor. Two people dead, one injured. Multiple suspects in custody. Granite School District put on shelter in place, D2 bring...
US man becomes first in world to get a heart transplant from a genetically modified pig (04:37)
1-13-2022
It's so easy to get sucked up into the COVID conversations… all day every day. But there's a medical miracle right going on right now that could change the world.   A man received a genetically modified pig heart transplant and he's alive…  continuing to recover. ...
Does poor Air Quality lead to a shortened life span (09:16)
1-13-2022
How are humans truly effected by poor air quality long term? A new bill proposed by Representative Steve Handy,  would allow a medical examiner to include air pollution on a certificate of death if he or she reasonably believes air pollution factored into this cause of death. D...
First Time Home Buyer Fear (16:41)
1-13-2022
5 years ago -- to afford a median priced home in Salt Lake County you had to make around $58,000 --- in 2021 you now have to make $101,400. Good luck to first time home buyers. Caitlyn Johnston, KSL Newsradio Producer shares her experience and fears of buying a home.  Shane S...
Faked Death Nabbed by Covid (08:51)
1-13-2022
A man wanted for crimes in Utah -- fakes his own death in Rhode Island -- but flees the country... the law couldn't catch him, but COVID did. Busted in his hospital bed -- in Scotland. Dave and Debbie explain the story.  See omnystudio.com/listener for privacy information.
Tooele Shooting from this morning (08:03)
1-12-2022
Domestic violence call, police called, confrontation inside the home with Tooele PD, officer involved shooting. KSL TV's Tamara Vaifanua. See omnystudio.com/listener for privacy information.
Test to Stay (10:36)
1-12-2022
The east high memo to parents sheds light on what schools are up against -- as of 9 pm last night the school said it didn't have details on when the kids would be tested. Waiting on the health department, which will do the free testing.  Martha Harris/KSL Newsradio See omnystu...
Families to Quarantine (08:13)
1-12-2022
Dave's worried there will be an explosion in Omicron case counts after test to stay results are back for many Utah High Schools. 8 in SLCO hit the threshold -- Schools with 1500 or more have 2% students test positive within the previous 14 days.  See omnystudio.com/listener fo...
Close Doors NY Fire Update (07:22)
1-12-2022
On Sunday, a fire broke out in a Bronx apartment building killing 17 people including 8 children...The medical examiners concluded that all died from smoke inhalation. See omnystudio.com/listener for privacy information.
Zion Rescue (10:26)
1-12-2022
An adult female from New York had gotten stuck in the snow in Zion National Park, alone.  It is reported about 6.5 miles into the hike she got stuck in the snow. Had to use a SPOT device to send her GEO-location to emergency responders  See omnystudio.com/listener for privacy ...
Wheelchair Parking Bill (09:56)
1-12-2022
General session starts up next week on January 18th! Today we are looking at one lawmaker who wants to require a portion of handicapped parking spots to be designated for those who use wheelchairs only. Jeff Stenquist, Utah State  See omnystudio.com/listener for privacy inform...
Antibody Calculator (08:16)
1-12-2022
Dave tested positive for Covid and was denied COVID monoclonal antibody treatment after taking a risk assessment test. There was an odd question that has Dave and Debbie1scratching our heads. The question was… Are you Hispanic or Latino? See omnystudio.com/listener for privacy...
Antibody Calculator cont. (10:07)
1-12-2022
Dave tested positive for Covid and was denied COVID monoclonal antibody treatment after taking a risk assessment test. There was an odd question that has Dave and Debbie1scratching our heads. The question was… Are you Hispanic or Latino? See omnystudio.com/listener for privacy...
Test to Stay Refresh (10:06)
1-12-2022
East, Bingham, Copper Hills, Herriman, Highland... all in the red zone and in test to stay mode and Mountain Ridge, Riverton, Skyline. That's just SLCO. When do they test to stay -- when schools with 2% or more test positive -- East has as of now 118 cases/2007 students Copper H...
How is Inflation hitting you? (07:49)
1-12-2022
Inflation has hit rates of 7% which hasn't been seen since 1982. What's causing the price hikes and what's being done to combat the rise? See omnystudio.com/listener for privacy information.
Home Improvement Show Pulled (08:27)
1-12-2022
How many of us would like to be on a reality show. Some who were involved with the new show, Home Work, they were left high and dry when their renovations were incomplete or incorrect See omnystudio.com/listener for privacy information.
Magnolia Network (08:33)
1-12-2022
There was a new show set to air soon on the Magnolia network but has since been canceled after accusations of unfinished and incorrect renovations. Cindy St. Clair producer from KSL TV guest See omnystudio.com/listener for privacy information.
I-80 has Moose on the Loose (09:04)
1-11-2022
Due to a group of moose all lanes going both ways were completely stopped on Saturday and then again on Sunday. The DWR first got reports of two bull moose in a median on I-80 near the Little Dell Reservoir exit Saturday afternoon. DWR officers tried to herd them out using a ram...
University of Utah Testing Vending Machines (09:37)
1-11-2022
Going back to school? But need a test as a student and want to avoid those long lines we have talked about all morning? The University of Utah has implemented an interesting new self serve strategy! Cameron Wright, Program Manager, University of Utah Campus COVID-19 Testing  ...
A check on testing lines (07:18)
1-11-2022
D2 asks for callers to share their testing experience.  Dave and Debbie also discuss yet another debate of Rand Paul and Dr. Fauci.  See omnystudio.com/listener for privacy information.
New York and Prosecutin Low Level Crimes (17:57)
1-11-2022
Day 1 for the new top prosecutor in Manhattan, NY had him on the defense. He's justifying his push to reform to go easy on some criminals & focus more on gun crimes. What does this look like in Utah?  Troy Rawlings, Davis County Attorney  See omnystudio.com/listener for pr...
Representative Chris Stewart on NATO - Russia Negotiations (08:58)
1-11-2022
The Russians have put nearly 100K troops on the border of Ukraine. They've been there for over a month. What's going to happen if Russia invades Ukraine? Representative Chris Stewart calls in to share his concerns.  See omnystudio.com/listener for privacy information.
Long Testing lines (18:32)
1-11-2022
here's the leadership on the testing mess? Gov press statement yesterday, flat liner for me. 50,000 new cases in less than a week, 2 children have died in the last week.  Massive wait times for testing 8 hours long.  Kelli Pierce, KSL Newsradio Producer calls in to explain her...
Lil Wendover Busted at Roy Gas Station (12:48)
1-11-2022
An alleged gas station gambling operation in Roy is no longer running after state agents and Roy police officers raided the business Monday, seizing nearly two dozen machines, along with all the cash inside. Richard Piatt, UT Attorney Generals Office Spokesperson calls in to di...
Liberal Society but Republican Voting (09:27)
1-11-2022
A new study is stating that Americans are much more liberal than they were 50 years ago... but here's the kicker -- though there are more liberal ideas, more people still go for Republicans on the ballot. This is according to researchers at New York University. Jason Perry with ...
Remembering Bob Sagat (09:54)
1-10-2022
Over the weekend actor and stand-up comedian, Bob Saget passed away in Florida. Dave and Debbie go over the details and remember him from his time in the show Full House and America's Funniest Home Videos. See omnystudio.com/listener for privacy information.
Moab Wingsuit (16:37)
1-10-2022
A 55-year-old man died BASE jumping in southern Utah. BASE jumping is one of the most dangerous sports in the world. The NIH did some research on this and found BASE jumping 5 to 8 times more dangerous than skydiving. CALLS: What's the most dangerous thing you've done? See omny...
Where did the emails come from (08:04)
1-10-2022
Dave and Debbie revisit the latest information on mask mandates and take a look into where the mass messages could have come from regarding the exemptions  See omnystudio.com/listener for privacy information.
Child Tax Credit (08:39)
1-10-2022
The child tax credit was temporarily made available even to families that don't normally earn enough to qualify, with no work requirement. They just had to file a tax return. The amount was also increased to $3,600 a year for children under 6 and $3,000 for those 6 to 17. Unles...
Confusion Over Quarantine (07:39)
1-10-2022
Dave and Debbie will go over how long a person needs to be isolated if they catch Covid. CDC says only 5 days if you've been vaccinated, but is it? Or should people isolate themselves for 10 days? See omnystudio.com/listener for privacy information.
No Lawn Bill (09:43)
1-10-2022
One bill we spoke about last week would put a ban on government & Home Owners Associations from forcing homeowners to plant turf. Raymond Ward, Utah State Representative  See omnystudio.com/listener for privacy information.
Intermountain Addresses Spike in Cases (12:11)
1-10-2022
Following Weekend of Expected Spike in COVID Cases and After Last Week's Record Number of News Cases, Intermountain Healthcare Physicians to Hold Media Update on Monday at 10 am.  See omnystudio.com/listener for privacy information.
SLCO Mask Mandate (40:35)
1-10-2022
Omicron is spreading like wildfire! We're anxiously awaiting the case count from the weekend. In the last 3 days of work week 25,629 Utah cases -- 3,592 of them -- school aged kids! Dr. Angela Dunn announced the mandate   Dave and Debbie asked guest Winder-Newton -- do anti-ma...
The Computer Electronics Show (07:24)
1-7-2022
Every year the biggest names in technology are invited to the Consumer Electronics Show, There, they gather and show where we are headed in terms of advancement in everyday tech use. This year we've seen everything from a self-driving tractor to a color-changing car. See omnys...
Jan 6 Commission (11:56)
1-7-2022
A joint committee on the insurrection was put into place about seven months after the fact. What progress are they making? And what is their end goal? They have made over 700 arrests even as the Trump administration still tries to defy their orders. Whether or not they have the a...
Turf wars (17:44)
1-7-2022
How much power does the government have? What about your HOA? Can they really demand you plant real grass compared to turf? What does it mean when we are so heavily policed that we can't decide what goes on our lawn, on the land we own. What's next? The color of paint I use? Ho...
Attack on democracy (08:32)
1-7-2022
We call Blake Moore, former diplomat and current Congressional representative from the state of Utah to discuss what he went through last year during the attack on American democracy. Has he noticed a change in security? Or do some of the problems still exist? We'll also play som...
Capitol security (10:00)
1-7-2022
Was Capitol security an oversight a year ago? How can we make sure something like this not only doesn't happen again but can't happen again. Brad Garrett ABC News crime and terrorism analyst speaks with us about security in Washington D.C. See omnystudio.com/listener for pri...
Covid At-Home test (18:41)
1-7-2022
When news broke that at-home covid tests were going to be available, we discussed what that might look like. Firstly, we thought they should be cheap, if not free; and secondly, we thought they should make COVID test lines a little less messy. Neither of those happened. Not only ...
January 6 2021 (19:24)
1-7-2022
With an overwhelming theme of blame going towards former president Trump, current President Joe Biden gave a speech on the insurrection at the capitol building one year ago today. Ines De La Cuetara ABC news Correspondent calls in to discuss President Bidens address to the nation...
Social media and kids - what's a good mix? (16:49)
1-4-2022
Some school officials in Utah want kids to stop using social media entirely. As we stare into our screens throughout the day, have we forgotten that our kids are doing it too? How does all of this staring impact their lives? Ben Horsley from Granite School District joined the dis...
Retirement Savings (10:25)
1-4-2022
During this time of resolutions and goals, D2 discusses what most of us should be looking forward to and how monetary preparedness can protect us in the future. Since we look to better ourselves during the New Year, they discuss what we should be doing to assure a monetarily safe...
Utah Sen. Mike Lee on the filibuster (08:34)
1-4-2022
Inside Sources host Boyd Matheson joins Dave and Dujanovic at the top of the 11 o'clock hour to discuss the new vote to remove the filibuster. Will it pass? And what are the benefits and losses of removing the filibuster? See omnystudio.com/listener for privacy information.
Divorced W/ Children (09:51)
1-4-2022
When parents separate it affects children most. So, is Kanye West onto something by moving right across the street from his separated partner Kim Kardashian? Dr. Warren Ferrel says that living closer than 20 mins away may be the most successful way to raise children while divorce...
Drunk Driving Devices (10:10)
1-4-2022
In this segment D2 takes on 3Ds -- Drunks, Driving, And Devices. DUI's are a very serious problem throughout the United States and new laws may soon help to protect us from others who are unfit to be on the road. Devices may be fitted to cars to smell or see whether or not you ...
Surprising Medical Bills (19:13)
1-4-2022
A new federal initiative, the "No Surprises Act," will enter the lives of Americans soon. Taking effect this year, this federal act will protect against surprising "after-the-fact" bills related to any medical procedure. It prohibits doctors, hospitals, and other covered prov...
Silicon Valley's Newest Fraud (10:01)
1-4-2022
Elizabeth Holmes was known as silicon valley's sweetheart and touted as the next Steve Jobs. But a Wall Street Journal investigation brought down the company and the founder with multiple accounts of wire fraud. ABC News Legal Analyst Royal Oakes joined the show with insight.  ...
Colorado Winter Wildfires (09:29)
1-4-2022
The Marshall fire in colorado raged across portions of the state destroying and damaging over 1,000 homes. It also sent KSL families running for their lives across fields. KSL TVs Dan Spindle joins to talk about his brother in the area. See omnystudio.com/listener for privacy in...